CorrosionHour.com is supported by its readers. This page uses affiliate links and when you click on an affiliate link, and make a purchase, we may receive a small compensation at no cost to you. See our disclosure policy for more information.
Looking for places to cash out those precious skins you've collected?
There are many reasons for wanting to sell RUST skins from your precious collection. For some people, it's a means of income or a pleasurable side hustle, playing the skin market and buying up skins while they're at their lowest and selling them at a higher price for a profit. Many other RUST players who seek to sell RUST skins for real cash could be in the position of simply not liking the skins or not using them anymore and wanting to make some pocket cash.
Whatever your reason may be, know that numerous third-party skin marketplaces, such as SkinSwap, Skinport, and more, have made it possible and quick and easy for players to sell their valuable RUST skins for real cash and crypto. Yes, we're talking about the money you can withdraw from an ATM.
But with so many scammy websites out there, how do you know which ones are trustworthy? Don't worry! We've done the heavy-lifting to give you the best websites to sell RUST skins for real cash in 2022.
1. SkinSwap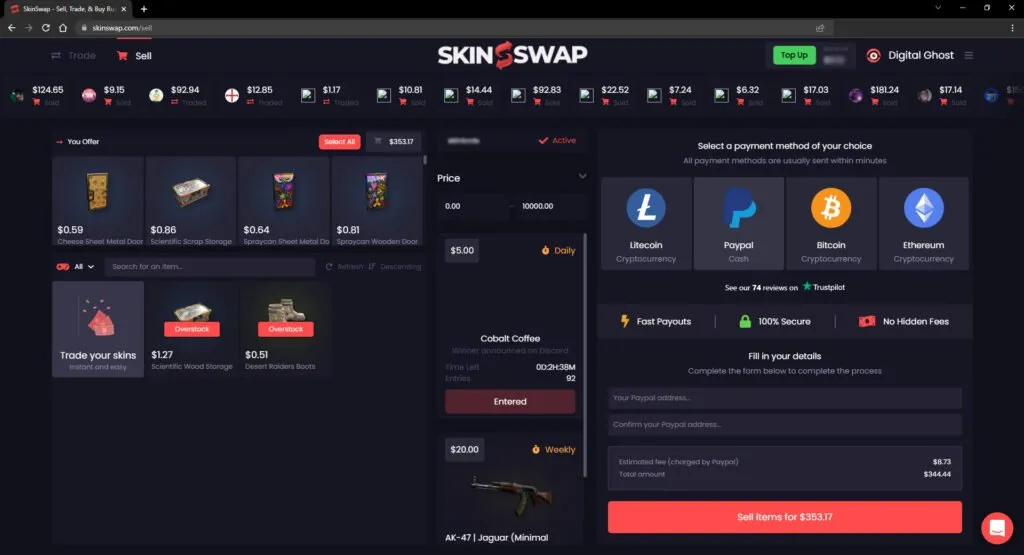 SkinSwap is the place for selling RUST skins if you're looking for quick, instant payouts through PayPal and popular cryptocurrencies such as Bitcoin, Litecoin, and Ethereum. You will also find some of the best prices available with your preferred payment within minutes. It's never been easier to get real cash for your RUST skins.
Not only does SkinSwap have positive reviews, it boasts a 4.7-star rating on Trustpilot, but it's fast, secure, and has no hidden fees. Their support is quick to respond and is always one click away, no matter where you are. The website is well-designed so that you'll have no trouble navigating it, even if it's your first time selling RUST skins.
SkinSwap is also friendly on mobile devices; it's one of the things we love about the site. You can manage just about every action without scrolling through multiple pages or dealing with constant pop-ups. Just about everything you need is on a single page.
With SkinSwap's browsing and sorting features, you can quickly sort, search, and filter through your entire RUST skin collection to avoid wasting your time. These features are super helpful, especially when you've accumulated a sizeable collection. If you're looking to literally cash out your entire collection, they have a mass selection feature that'll let you do just that.
SkinSwap has done its best to make the site easy to use and difficult to beat their prices.
Be sure to use the promo code CORROSIONHOUR to receive an extra +1% bonus when selling your skins at SkinSwap.
2. SkinCashier
Selling skins on SkinCashier is as straightforward as it can get. You select the skin you want to sell, choose your preferred payment mode, and patiently wait for a player to purchase your item.
When the sale is successful, you can withdraw your cash instantly. Choose among SkinCashier's wide range of payment mods, such as PayPal, Payoneer, and Skrill, to get your well-earned cash in not more than a minute. It's as simple (and speedy) as that.
SkinCashier also promises to maintain transparency. That's why they charge a flat fee of 11.5 percent for every RUST skin that's sold on the platform. They also offer special promo codes to bump up the money you'll receive.
However, the downside is that you can't sell certain skins that are either too cheap (under a dollar) or that are in surplus at the moment. So, for instance, if you want to sell the Loot Leader Trousers, but there are too many people selling the same thing simultaneously, you will need to wait until it's in demand again.
On the plus side, SkinCashier has been around for a long time, making it one of the most reputable and well-known websites for selling RUST skins.
Trustpilot reviews have also shown that SkinCashier's customer support is top-notch and that customers consistently get support right away. With that said, if you're looking to sell your RUST skins on a site that has an A+ for customer service, SkinCashier is a worthy choice.
Be sure to use the promo code CORROSIONHOUR to receive an extra 3% bonus when selling your skins at SkinCashier.
3. DMarket
One of the reasons why DMarket is the top choice for RUST players who want to sell skins is that it allows you to cash out instantly. Once you sell a skin, you can get your earnings through MasterCard, Visa, and more. So, it's perfect for people who want to make money from RUST skins.
Keep in mind that you need to deposit your items in your DMarket inventory to put them up for sale – in other words, you need to transfer them from Steam to the third-party platform. Therefore, you won't be able to sell skins that aren't already in your DMarket inventory.
When you set your skin's price on DMarket, you can opt for the "Recommended Price" (this ensures that your item is sold fast), "Lowest Price," "Recent Average Price," or set your own price.
What's great is that DMarket tells you exactly how much you'll get for the specific price that you set. So, for instance, if you sell a skin for $0.02 but DMarket has a fee of 7% for that skin, the "You'll Get" field will show you that you'll get around $0.01.
DMarket's fees for RUST skin sales range from 1% to 7% of the total transaction. However, the platform offers plenty of discounts so that the fee can go even lower.
There are two ways to sell a RUST skin on DMarket: via the DMarket Bot or DMarket's Face2Face (F2F) mode on Steam. If you opt for the former, you'll have to follow Steam's seven-day hold.
However, if you opt for the latter, you can sell items immediately. You'll get the same amount of money either way, but if you want to withdraw your money as soon as possible, F2F is your best bet.
Do note that some items won't be sold instantly – this happens when no one has put up a purchase order for that particular item. On the other hand, if someone has put a purchase order for your item, DMarket will let you know through the "Instant Sale" icon at the top of the item. This is a useful feature for people who want to sell their items ASAP.
4. Skinport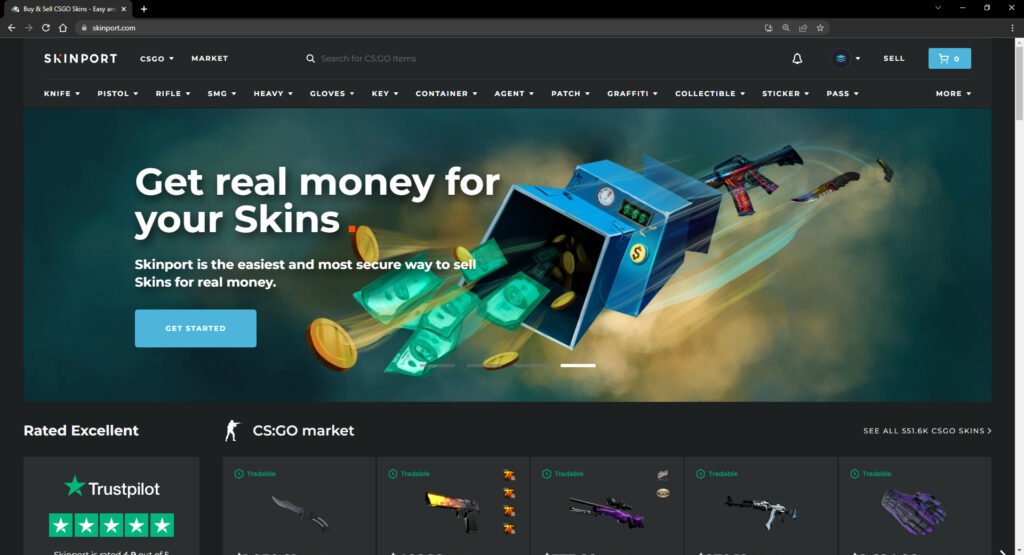 Skinport stands out for its easy-to-use interface and wide range of filters that allow you to sort through your long list of RUST skins. You can arrange your things according to their category, sort them according to price, and change the default currency to USD, CAD, and so on.
On the Skinport website, you'll be shown two tabs: your Steam inventory and your Skinport inventory. This separation allows you to ensure you don't make the mistake of selling something you still need to use in-game.
To sell a skin on Skinport, simply click on the skin, and it will automatically be added to the summary of items on the sidebar. This is also where you'll find the total amount of money you'll make. Once you click on "Sell," you'll be asked to confirm it on the Steam app (they do this for safety purposes), and then it will be up for sale.
As for the sales fee, Skinport charges a regular fee of 12% of the selling price, but this can go as low as 6% for valuable items – these are items that belong to the "high-tier" range.
Unfortunately, unlike DMarket, Skinport does not let you sell skins instantly. To sell items fast, you'll need to do it the old-school way – lower the price so that people will want to buy them. It does, however, allow you to put your skin up for sale even if no one has put up a purchase order for it yet.
It's worth noting that Skinport complies with Know Your Customer (KYC) practices, so you won't be able to complete any payouts if you haven't verified your account yet. But once you've done that, you'll be able to benefit from limitless payouts (in other words, you'll be able to withdraw any amount at any time).
It's time to start selling your RUST skins for real cash!
Whenever you want to sell RUST skins, be sure to check out the RUST skin marketplaces above. Take some time to shop around, no two inventories are identical, and prices fluctuate with time. Be sure to check out their communities for limited-time promotions and offers, and be sure to use promo codes that were made available.
These sites let you sell RUST items for real cash instead of marketplace currency or having to only trade them for other skins that you likely won't use in-game unless of course, you're adding the most expensive RUST skins to your collection! With the right knowledge and sources in your pocket, you will be in the business of buying and selling RUST skins like a pro in no time.