It's time to give your guns some glam
RUST is easily one of the best multiplayer survival games on the market since its early access release in December 2013. You'll find yourself and other players building bases, gathering supplies, raiding, and doing whatever it takes just to survive.
One feature that RUST offers is the ability to customize your appearance with skins to look fancy while you mow down some naked rock-wielders. Some skins offer better camouflage for certain environments, which can offer you a tactical advantage if you like to play stealthily. Some weapon skins even offer glowing sights, which makes it easier to aim your weapon at night.
The price of these skins can vary wildly. Some skins are as cheap as a dollar, and some can cost over $1000! Today we'll look at 10 of the most expensive RUST weapon skins to add to your collection. Not that prices are an approximate value from when this article was published.
Halloween Bat
Starting off this list, we have the Halloween Bat skin available for just over $60. This skin applies to the semi-automatic pistol and gives it an orange and black aesthetic, perfect for the spooky season.
This skin was designed by MDemon, the creator of the Halloween collection. The skin made it into the game in late October back in 2015. Next time you go out trick-or-treating with your friends on RUST, make sure to grab this skin if your neighbors don't want to hand out candy.
Polymer MP5
Next, we have the Polymer MP5, which will set you back a little over $70 to add to your collection. You can apply this skin to your MP5A4 to give it a tan look, and it comes with a handy red dot sight. Remember that this is not a glowing sight, so it's not as effective as glow sights during the nighttime.
This skin was designed by Krovv, who has created several skins that have made it into the game, like the Road Raider skin set. The Polymer MP5 was only available for sale for a short period in 2018, which made it quite rare to get a hold of one.
Banana Eoka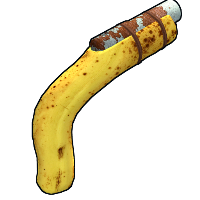 Add insult to injury by knocking someone down with the Banana Eoka skin. All you'll need is an Eoka pistol and $85, and you'll have yourself a weapon that monkeys can't resist. This skin looks strikingly similar to a slightly bruised banana and is surprisingly realistic.
The Banana Eoka was added to the workshop in early February 2017 by steam workshop creator Regular Merc. Suffice it to say that this skin made the list, with less and less of them appearing on the market each day. Grab this skin, and you'll earn some bragging rights…and a banana.
Military Camo MP5
You can grab the Military Camo MP5 skin for $87 to get that classic military camouflage look. This skin will add some green and tan to your MP5A4 and is great to add to your collection if you are going for a military cosplay.
This skin was created in late 2016 by Milho Frito, who is responsible for creating other skins like the Cow Moo Flage hoodie. The Military Camo skin is rare, with only a few available on the Steam marketplace. If you are an avid collector of rare skins, grab this one before it jumps in price.
Demonic Pistol
Feeling a little evil? You can add some edge to your semi-automatic pistol for just under $100. The Demonic Pistol skin will add some red and black to your handgun, alongside some skulls and a pistol grip adorned with bones.
This skin was introduced to the Steam workshop in early October 2017 by workshop creator LittleRanger. When this skin was first released, one lucky seller managed to sell it for $1800, so $100 doesn't seem like a bad deal.
Alien Red
The Alien Red skin will give your Assault Rifle a great-looking red, black, and gray appearance. But the most valuable feature of this weapon is that it comes with a glowing sight. If you want to get your hands on this skin, you'll be looking at dropping close to $140 for it.
This skin was designed by workshop creator MDE and was introduced into the game early in 2017. The Alien Red skin is popular enough, so you'll always find someone selling or buying it on the Steam marketplace.
Hot-Tempered Longsword
The Hot-Tempered Longsword skin is the only melee weapon skin on this list. This skin will run you around $170 to give your longsword a red-hot glow that looks as if your sword was just forged. While the skin does glow, it doesn't give you much visibility at night, and others will be able to detect you easily.
This skin was designed by kf.hammond and was introduced into RUST in late 2016. There aren't many of these skins available on the market, which is why this skin is so expensive.
Glory AK47
To compete with the Alien Red assault rifle's glow sight is the Glory AK47 skin. This skin is clad in darker artistic colors and features intricate golden details. This weapon's skin features a glowing sight that makes it easier to aim at night. You can grab this skin for over $230.
The Glory AK47 skin was another skin created by MDE and was posted on the workshop in March of 2017. Glow sights can give you a massive advantage in the dark against your foes, so it's no surprise that this skin is hot on the market.
Tempered MP5
Number two on this list is the colorful Tempered MP5 skin. This skin costs almost as much as a gaming console, starting at over $500. You'll not only have massive bragging rights for owning this collector's item, but you'll also be rocking some vibrant shades of purple and gold on your MP5.
The Tempered MP5 is another skin designed by Milho Frito and was added to the steam workshop in late 2016. If you are serious about your RUST skin collection, this one is a must-have.
Alien Relic SMG
Finally, for the most expensive weapon skin in RUST, we have the Alien Relic SMG. This weapon skin will give your SMG a blue glow and comes with a glowing sight. Since very few of these weapon skins are on the market, you'll be looking at spending almost $1800 for this skin!
The Alien Relic SMG was designed by Steam workshop creators FatNerdSlayer69 and John Cisors. It was placed on the Steam workshop in December of 2016, where it slowly became increasingly popular as the years went on. Due to massive demand and limited supply, this skin slowly grew to become the most expensive RUST weapon skin.
How serious are you about collecting RUST skins?
Some RUST skin collectors are so dedicated to the game that they will drop thousands of dollars to become the proud owner of one of the skins from this list. While some of these weapon skins may be achievable for some players, very few RUST players can get their hands on skins like the Alien Relic SMG, as it tops the list of the most expensive RUST weapon skins.
Did you know that more skins are worth thousands of dollars besides skins featured on this list? You can check out our 10 Most Expensive RUST Skins list to see what other skins are valuable. And, of course, if you're playing on Team Frugal, there are plenty of ways to acquire RUST skins for free.