All weapon locations at your disposal
Sons Of The Forest is known for bringing something unique to the horror survival genre. It improved upon The Forest in many ways, with one of the most notable changes being the unique ranged and melee weapons. Having a wide variety of weapons helps with player retention, giving players more things to strive toward. That said, knowing where to find these weapons is essential, and that's exactly what we'll show you today.
Sons Of The Forest has it all, whether it's a bow, axe, or firearm. But you'll have to put in additional effort to get all those weapons. Every notable and unique weapon has its own spawn location, and we recommend knowing exactly where those locations are on the map.
Every weapon location in Sons Of The Forest
The list of weapons we will present is divided into craftable and non-craftable. Some of the unique weapons will require you to get tools or keycards before you can find them; therefore, we will also note if there are any specific requirements for a weapon.
Each weapon location will have a link to its designated coordinates on the Sons Of The Forest Interactive Map. We will also be linking our full guides on each weapon in the list; this will help clear up any confusion that may arise regarding the weapon and its characteristics. Additionally, we'll provide a map with the rough GPS locations of each weapon for further clarification on everything.
Non-craftable weapons
The following weapons are not player craftable and must be found in the game world:
Craftable weapons
This small collection of weapons are player crafted, so don't worry about losing them in the bushes at night:
Weapon locations in Sons Of The Forest
As you can see, plenty of these weapons require a shovel or maintenance keycard. If you want all weapons, the best course of action is to gather the ones that don't require any additional tools. If you need a more in-depth explanation, we've made complete guides on both the Shovel and Maintenance Keycard.
Now we can delve into the location of each weapon and what makes them stand out among the rest.
Tactical Axe
The Tactical Axe is the first serious weapon in Sons Of The Forest. You unlock it by opening up the emergency kit that you get after the intro sequence plays out.
As a weapon, the Tactical Axe is the standard weapon and tool for beginners. It's supposed to be mediocre in every aspect, and it doesn't have a recognizable strength that makes it stand out.
Modern Axe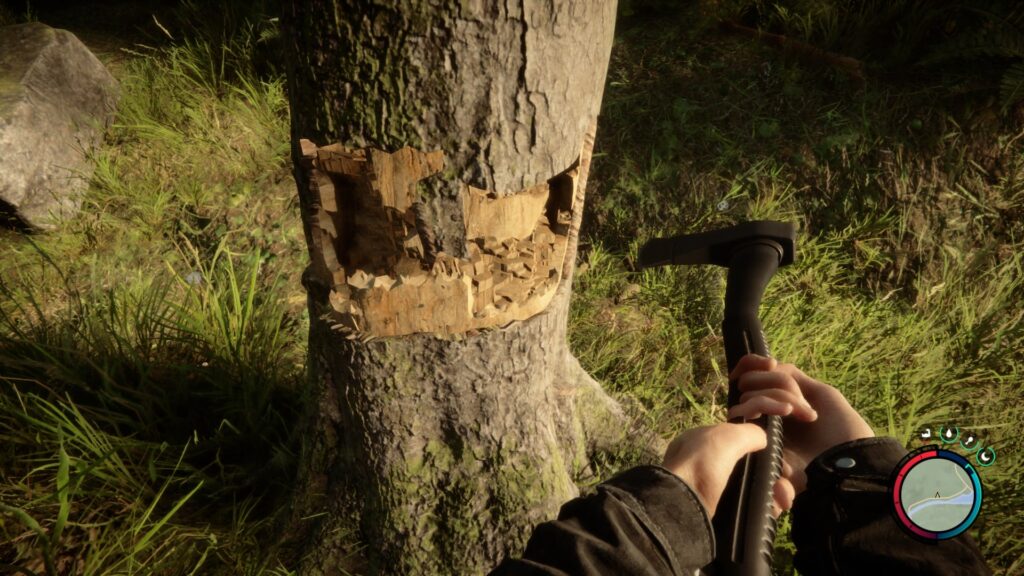 The Modern Axe can be found at a campsite on the northwestern part of the island. It should be just east of the raft where you find the Pistol. This axe is a direct upgrade from the Tactical Axe and does nearly everything better.
It's bigger, which means it packs a much bigger punch. This axe should be a weapon you get early on in the game, primarily because of how close it is to nearly all possible spawn points. Furthermore, chopping down trees with the Modern Axe will be much easier than with the Tactical Axe. The only downside to it is its slower swing speed.
Firefighter Axe
The Firefighter Axe stands firm as the best axe in Sons Of The Forest. You'll find it in Maintenance Bunker A, and you will need the Shovel to access the hatch to that bunker.
Once again, this axe is better than the previous axe in line. It has better damage, woodcutting, and blocking capabilities, with swing speed being the only downside. A formidable weapon like this will force you to exert a lot of stamina, and it's not as efficient in inexperienced hands.
Machete
The Machete is yet another great tool and weapon that allows you to swing faster than most weapons in this game. You'll find it in the northern part of the map, on a large beach next to the northern spawn point.
Damage isn't one of its strong suits, though. What the Machete mainly excels at is swing speed. It is among the fastest-swinging weapons in Sons Of The Forest, which means that it dispatches lesser cannibals with ease. Slashing smaller cannibals might be fun, but you can also use the Machete to clear bushes and thickets in one sweep.
Katana
A weapon as legendary as the Katana deserves to be in your hands, and that's why we want to help you find it. The Sons Of The Forest Katana can be found in the Residential Bunker on the eastern part of the map. You will need the Maintenance Keycard to access this bunker.
The Katana is coveted in this game due to its swing speed and dismemberment chance. These two variables work great to bring you a weapon that delivers swift and deadly slices. Watching cannibals flee in pain as you sever one of their limbs is enough to make you want the Katana as soon as possible.
Putter
The Putter is more of a prop than it is a weapon. It is used to play golf but can also serve as a blunt weapon. There are plenty of Putter spawns scattered around the map, but the most notable are the Residential Bunker and Golf Course in the northeast.
Its stats are very lackluster, making it useless overall. The only reason you should use it is to have some fun on the aforementioned golf course.
Guitar
Similar to the Putter, the Guitar may be a melee weapon, but at the end of the day, it's just a prop that adds a layer of humor to the game. It can be found in the Entertainment Bunker, lying on a bar.
As a weapon, the Guitar also shares similarities with the Putter. It doesn't hit hard, nor does it swing fast. Unless you're in a goofy mood, there's no reason to use this in serious melee combat.
Electric Chainsaw
Many want to get their hands on the Electric Chainsaw and for a good reason. It is located in the Entertainment Bunker, in a home theater next to the bar where you find the Guitar. The Maintenance Keycard will be needed to enter this bunker.
The Chainsaw is a multi-purpose tool that both protects and serves you. Chopping down trees is made effortless with it, allowing you to get your base built at a quicker pace. In addition to this, you can also use it to chop off heads in a fun and easy manner. You get the best of both worlds with it, that is, if you don't forget to charge it with batteries.
Stun Baton
Crowd control is an important aspect of most fights, and the Stun Baton is perfect at keeping any aggressive cannibals at bay. You will find it in a pile of skulls near the forest crash site. It's hard to miss.
The Stun Baton delivers a serious shock upon hit, severe enough to where most lesser enemies will be stunned. You have to get up close and personal with it, though, which isn't always the best approach.
Pistol
We've finally made it to ranged weapons, a category that defines the mid and late-game stages. The Pistol, in particular, is somewhat of an introduction to firearms in Sons of The Forest. It is found in two places: on a raft in the western part of the map or in the Residential Bunker.
It uses 9mm ammo, and you can add plenty of additional upgrades. It may not hit as hard as some other firearms, but it's still worth using due to its versatility.
Shotgun
The Shotgun is hands down the best and most efficient ranged weapon. It can be found in a grave on the northwestern part of the map. You won't be able to access this grave without a Shovel.
Two ammo types can be used with the Shotgun: Buckshot and Slug. This allows you to stockpile one kind of ammo while using the other. The Shotgun also has superb dismemberment capabilities, especially if you use buckshot shells. You shouldn't have a problem fighting any opponent with the Shotgun in hand.
Revolver
Revolvers have always been viewed as hand cannons, and Sons Of The Forest took a similar approach with theirs. It's located inside Maintenance Bunker C, and you will need a Shovel to access it.
As of now, the Revolver is in a weird state. It may dish out more damage but falls short in nearly every other aspect. It can't hold any upgrades and uses the same ammo type as the Pistol. It only makes sense to use the Revolver if you've given the Pistol to Virginia.
Stun Gun
Have you ever wanted to shock someone from afar? Then the Stun Gun is just what you need. To find it, you must go to the Rebreather Cave near the northern crash site.
The Stun Gun fires cartridges you can find in general loot, and it takes quite some time to reload. Being able to stun and shock enemies from a distance is why many players prefer this over the Stun Baton. However, both have their distinct advantages and disadvantages.
Crossbow
The Crossbow is considered the most powerful non-firearm ranged weapon in Sons Of The Forest. You can find it in the Food & Dining Bunker, near one of the first hydroponic stations. You can't enter the hydroponics lab if you don't have the Maintenance Keycard.
Crossbow bolts are the only ammo type you can use with the Crossbow. Each bolt is released at an insane speed, which is what makes this weapon so powerful in the first place. Although powerful, it's plagued by slow reload speed, and you will likely be caught reloading it more than once.
Compound Bow
Let's finish off strong with the Compound Bow, a ranged weapon that you should have by the mid-late stage of your playthrough. Maintenance Bunker B is where you will find the legendary Compound Bow. This is a bunker that can only be accessed with a Shovel.
The Compound Bow, just like the Crafted Bow, can use all three arrow types (Stone, 3D Printed & Carbon Fiber). You won't have to worry about running out of arrows if you regularly stockpile them. To top it all off, its damage output sometimes makes even regular stone arrows feel mighty. This ranged weapon is a must-have in nearly every scenario.
Final thoughts on all weapon locations in Sons Of The Forest
Endnight Games wanted to make our hunt for unique weapons dynamic. Every weapon is scattered around different parts of the map, and most require other tools or gadgets to find them. All of this creates stages of progression that you can abide by if you want to experience the game properly. 
Now you know how to find every weapon in Sons Of The Forest. There are other new and useful features to look out for, too, such as the new AI Companions Kelvin and Virginia.