Learn the basics of RUST electricity and its components
This RUST Electricity Guide provides a general overview of the electricity system. It will teach you about each of the electrical components and help you to create working and efficient electric-powered systems that will evolve your base designs. Go from primitive stone shacks to advanced modern and automated military-grade facilities.
The electricity system plays a significant role in the mid to endgame in RUST. It's worth the while to invest some time learning the basics. For many players, the RUST electricity system is very intimidating. If all of the electrical stuff seems confusing, don't worry!
Even though there are many different devices and circuits to be fashioned, in the end, it's not that difficult once you get the hang of it. There are also communities built around this very topic.
This RUST electricity guide is useful for both those people who are new to the scene and veteran electricians who just don't know how a specific device works. The best way to learn things is to hop on a creative server and start experimenting yourself.
Let's get started with the basics of the RUST electricity system.
Electrical Tools
These are the items you need to get in order to start creating circuits and edit the properties of your components.
Wire Tool
The Wire Tool is the most essential tool for doing anything electricity-related.
This is the tool you will use to add and remove wires as well as to configure certain components and set values. The wire tool costs 5 high quality metal to craft and requires workbench level 1 but doesn't need to be researched, as it's a default blueprint. The wire tool can connect a wire up to 30 meters away with a cap of 16 turns.
Using the Wire Tool
Components have certain spots you can connect a wire to that each has its own function or purpose. These can be found in the component details.
Here, we will use an electrical branch as an example. In the picture, you can see the wire tool pointed at the "Power In" spot.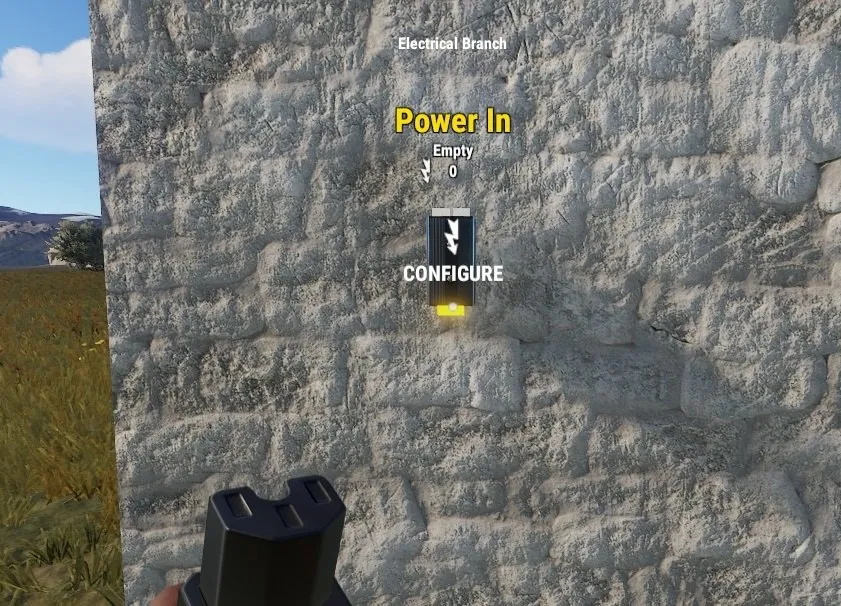 By right-clicking, you can connect the component to another one by left-clicking at the part you want to connect, and left-clicking again at the part you want it to connect to.
In the image below is a root combiner connected to an electrical branch. You can remove any connected wires by left-clicking one of the spots it is connected to.
You can only connect wires to places where they can be connected to. For example, you cannot put a wire from a component's "Power In" port to another "Power In" port. The wire tool will highlight the ports you can connect the wire to as white blocks that will turn yellow when pointed at.
Hammer Tool
The Hammer Tool probably doesn't require that much introduction, but it still has its use in electricity. Most of the electrical components can be picked up by using a hammer, but they will lose 25% of their HP in the process. You can also fix most electrical devices by hammering them and having the needed resources in your inventory.
Power generation, usage, and control
The electrical components in RUST can be divided into four main groups.
1. Power generators
These components are used to generate and/or store electrical power.
Wind Turbine
Large Solar Panel
Small Rechargeable Battery
Medium Rechargeable Battery
Large Rechargeable Battery
Small Generator
2. Activators, sensors, and triggers
The main purpose of these components is to activate and/or detect something which leads to the activation of the circuit.
HBHF Sensor
Pressure Pad
Laser Detector
Switch
Timer
RF Transmitter
Button
Smart Switch
3. Control units
This group of components consists of devices that are used to either control, connect, divide or cut your circuits. The main feature that connects each component is that most of them cannot work alone. They need a trigger such as a signal to operate. This isn't true in all cases though.
AND Switch
Counter (also belongs to the section below, as it can also be used as an informational device.)
Blocker
Electrical Branch
Root Combiner
Memory Cell
RAND Switch
OR Switch
Splitter
XOR Switch
RF Broadcaster
RF Receiver
4. Electrical devices
These are the components at the end of the circuit that is controlled by everything listed above and actually show the end results of your system.
Ceiling Light
Electric Heater
Audio Alarm
Counter (see the list above)
Door Controller
Flasher Light
Siren Light
RF Pager
Auto Turret
SAM Site
Tesla Coil
Igniter
CCTV Camera
Computer Station
Fluid Switch & Pump
Water Pump
Powered Water Purifier
Smart Alarm
Power generation and usage
There aren't any volts, amperes, or watts in RUST, but the power values are simply labeled as ϟ. We will use the same symbol in this guide, so it won't get confusing.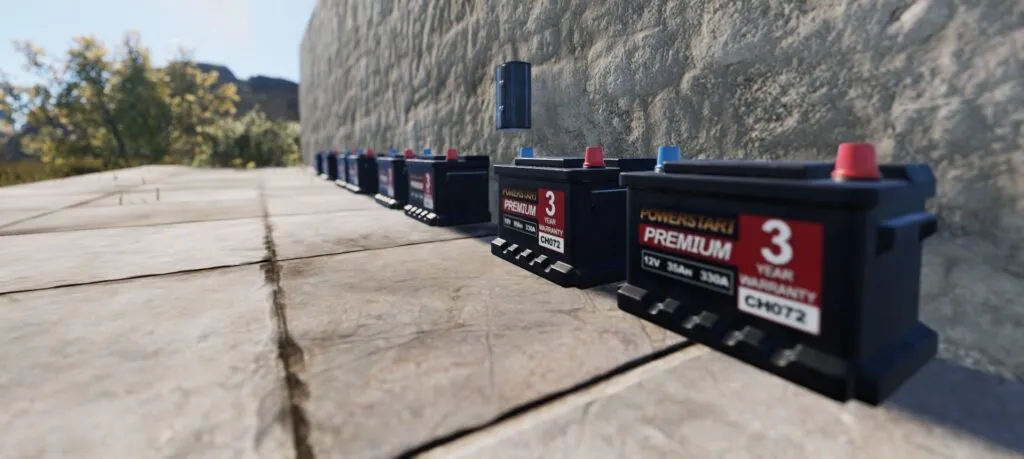 Every component has its own power value. Power generators generate and other components use a certain amount of power.
Simply told, you can't use more power than you are generating. For example, a solar panel can have a maximum output of 20 ϟ and a ceiling light uses 2 ϟ. You can connect as many lamps as you want, but only 10 of them will produce light as there isn't enough power for more.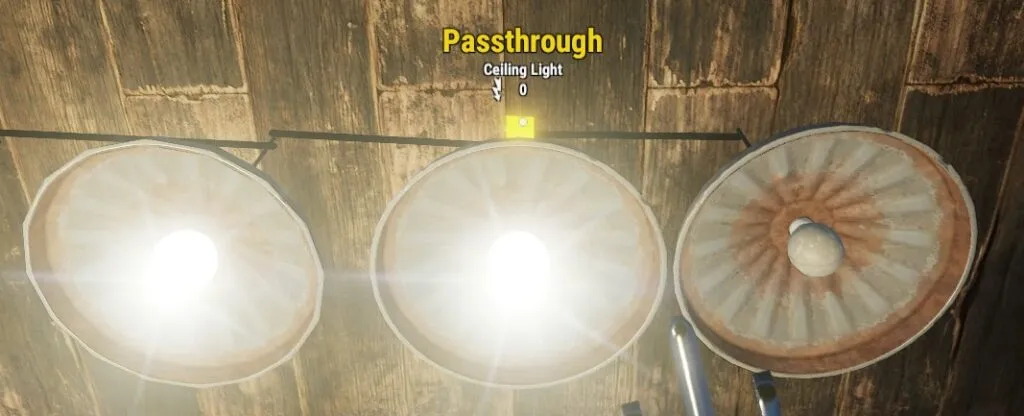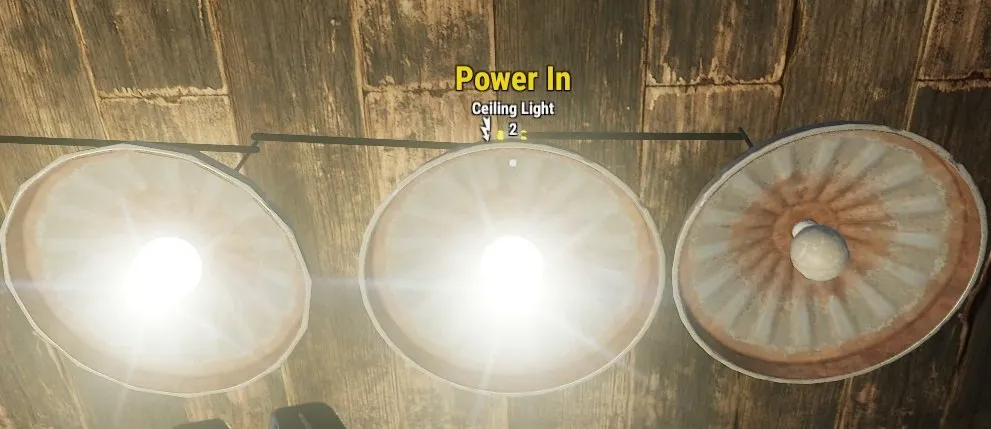 In the pictures above, there are 11 lights connected to a single large solar panel. You can see how the power coming from the 9th light is 2 ϟ but the passthrough from the 10th light is 0 ϟ. That's because each light in the circuit decreases the total power amount by 2 ϟ and at the end, there isn't any power left for the 11th light.
Remember that every component has its own power consumption and even ones such as switches use power so take that into account.
Batteries
There are three types of batteries in RUST; small, medium, and large. each one behaves the same way, the only differences are output power and capacity.
Batteries in RUST use a special type of unit called rWm (rust Watt minutes) to measure the charge of a battery. In practice, this means that the battery can power a system that uses up to 60 ϟ for one minute. The higher the power consumption, the faster the battery will drain. Batteries can now also be charged while in use. When looking at a battery with the wire tool in hand, you can see the following information:
Charge left – This shows the time until the battery is completely drained. If the battery is not under load, the amount will be shown as … instead. The charge left counter also doesn't take into account if the battery is being recharged at the same time.
Active usage – This shows how much load the battery is under. Each battery has a limit that can't be exceeded.
Max output – Shows the maximum amount of power the battery can supply.
Capacity – Shows the amount of charge left in the battery (in rWm).
RUST special frequencies
Radio frequencies between 4760 and 4790 MHz
These are frequencies that can not be sent out by players using any of the tools provided in-game. At the moment, only the two oil rigs and the excavator can send out these signals.
Small Oil Rig radio frequency
The frequency in the small rig is located in the red keycard room. The frequency for the small oil rig is always 4765. The signal corresponding to the frequency is sent out when the hackable crate is opened.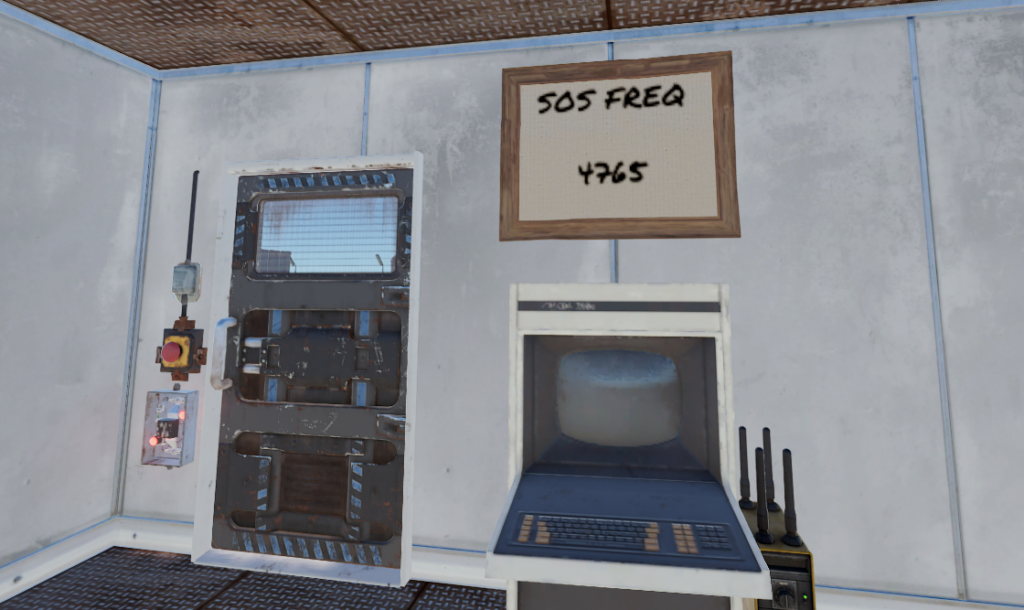 Large Oil Rig radio frequency
The frequency in the large oil rig is located in the room next to the one with the research table. The frequency for the large oil rig is 4768. The signal corresponding to the frequency is sent out when the hackable crate is opened.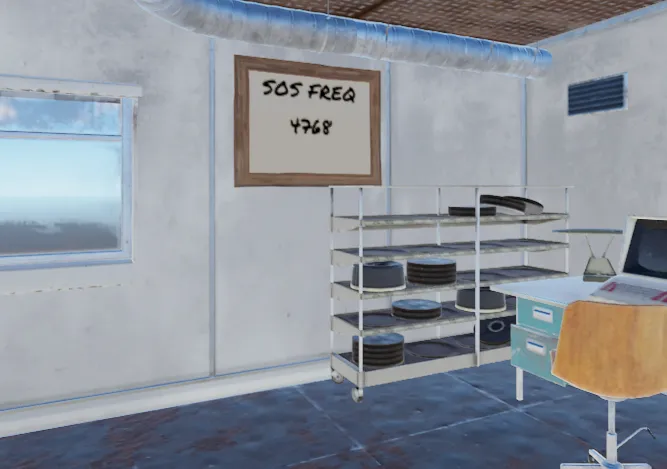 Excavator radio frequency
The frequency in the excavator is located in the engine room where the diesel storage and main switch are. The frequency is 4777. When the excavator is on, the RF Broadcaster inside will send a signal.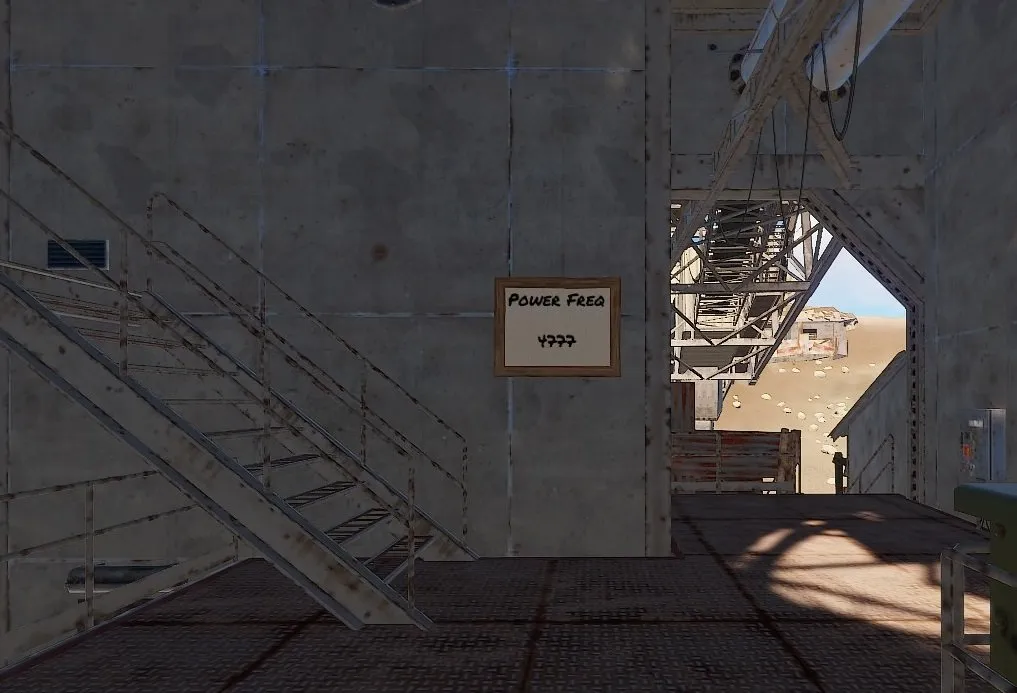 RUST CCTV camera systems & monument IDs
In order to use CCTV Camera systems, players need a computer station to make use of the CCTV cameras placed around the map at various monuments and for those they place themselves. Player-placed cameras will require a power source, whereas monument-specific cameras do not require power.
To add a CCTV camera to your computer station, click the Identifier to Add bar, type the case sensitive ID for the camera and then click the ADD button.
When using the computer station, players will see a live image feed as well as hear the sounds from the camera's general vicinity.
For a complete and updated list of CCTV Codes, check our CCTV Camera Codes Guide, which will also explain in detail how to set up and use this system.
We touch upon this in the electrical component section, look below for the CCTV Camera and Computer Station components.
RUST+ mobile app
The RUST+ mobile app was introduced in the June 2020 update, which can be used for various different purposes. However, this guide is about electricity, so I will only cover the necessary stuff. For a more in-depth look, you can dive into our RUST+ Companion App Guide.
How does it work? Players can pair the app with a RUST server by logging in through Steam. Once the application has been authenticated, you will need to connect to a RUST server on your PC and click the 'Rust+' button inside the mobile app's menu and select 'pair with server' after that.
After you have paired the app with the RUST server, you can pair certain electrical devices with it. The following components can be configured to work with the app:
To pair a device, simply point at the device and hold down the E key. Be aware that pairing requires the device to be powered. That will send a notification on your phone which will then need to be accepted.
RUST electrical components

In this section, we cover all of the RUST electrical components and explain their functions in detail. You will find miscellaneous information such as crafting information, loot tables, power consumption, power generation, and other useful data to help you better master the RUST electricity system.
Acquiring electrical components in RUST
All of the electrical components can be looted from containers listed in their respective sections. Some can also be bought from NPC vendors and some electrical components are part of DLC packs.
We previously included the specific chances of the items appearing in certain containers, but because they continuously change, we decided it'd be easier to demonstrate the rarity of the items with symbols.
Chances of items appearing in a container
Low chance: 🔸 (< 5 %)
Medium chance: 🔷 (5 % – 30 %)
High chance: 💠 (> 30 %)
Most of the components appear rarely in containers (most around 1-2 %), but components dropped by oil rig scientists are even rarer, with most components having a drop rate of around 0.1 %. Both regular and heavy oil rig scientists have the same drop rates, so I didn't feel the need to specifically include both of them.
Using workbench Tech Trees
As of the tech tree update, the ultimately easiest and most cost-effective way of acquiring blueprints for electrical components is through the tech tree, which can be accessed from a workbench of the respective tier.
Ceiling Light
Flasher Light
Siren Light
Search Light
Igniter
Storage Monitor
Electric Heater
Elevator
Reactive Target
Modular Car Lift
Tesla Coil
Auto Turret
SAM Site
Door Controller
Audio Alarm
Water Pump
Fluid Ports
Water Output – This is where the water will come out.
Powered Water Purifier
Fluid Switch & Pump
Switch
Smart Switch
Timer
Button
Pressure Pad
Laser Detector
HBHF Sensor
Counter
Small Generator
Large Solar Panel
Wind Turbine
Small Rechargeable Battery
Medium Rechargeable Battery
Large Rechargeable Battery
Root Combiner
Splitter
Electrical Branch
Blocker
Memory Cell
RAND Switch
AND Switch
OR Switch
XOR Switch
RF Transmitter
RF Broadcaster
RF Receiver
RF Pager
Concluding RUST electricity
Once you have the basics of RUST electricity down, it's time to start crafting some circuits around your base. Consider using a tool like Rustrician to plot out your circuits before spending precious resources. There are plenty of resources and guides available across our site to get you started. Good luck!