What is the Rust+ Companion App?
The Rust+ Companion App, released on May 27th, 2020, allows Rust players to stay connected to the game remotely, from their mobile phones, for the first time. The new companion app introduces an entirely new gameplay dynamic that opens a world of endless potential, growth, and new meta gameplay to look forward too. Players can monitor their bases, view server information and live maps, and more.
In development for months by the game's developer, Facepunch Studios LTD, this mobile companion app has been long-awaited and couldn't have come soon enough to the Rust community. Players can find instant value from the application if not only to communicate with team members but also being able to access a live map and read up on the latest updates. 
The Rust+ Companion App went live across all Rust servers on June 4th.
Where to download the Rust+ Companion App
Facepunch has developed the application for both Android and Google devices running Android and iOs, and its available now for free. Players can download the Rust+ Companion App for free on the Google and Apple App Stores, respectively. Connecting to the application will require you to have a Steam account to authenticate and pair with supported Rust servers.
Rust+ Companion App Features
Facepunch Studios continues to move the needle forward, unlike many survival games, as Rust continues with its development. With each new Rust update, new functionality is added to the game, with no cost to the players.
With the Rust+ app, players will now have the ability to remotely:
Check up and monitor your favorite game servers

See 

real-time server status

 and information, including player counts, map sizes, and last wipe dates

View a 

live game map

 with team positions, points of interest, and server-wide events

Remotely manage

 your base defenses

Control in-game devices

, such as traps, with Smart Switches and Alarms

Receive 

real-time notifications

 as they happen

Communicate 

and

 coordinate 

with team members 

Quickly access the 

latest Rust updates
Using the Electrical Smart Components
For many players, the app is useful out of the box, as it provides server information, team communications, a live map, and more. However, to squeeze out more value from the app, players will need to utilize Rust's electronic system when designing their bases.
Enter the smart alarm and smart switch, tier 1 electrical components used in conjunction with the companion app. The smart alarm component once configured and powered, will allow you to receive notifications on your mobile phone. Be sure to have a wire tool equipped when attempting to set the smart alarm and switch. 
The smart alarm becomes a critical asset to a base's overall defense, allowing individuals and teams to receive numerous communications, such as but not limited to, active raid alerts and trap triggers.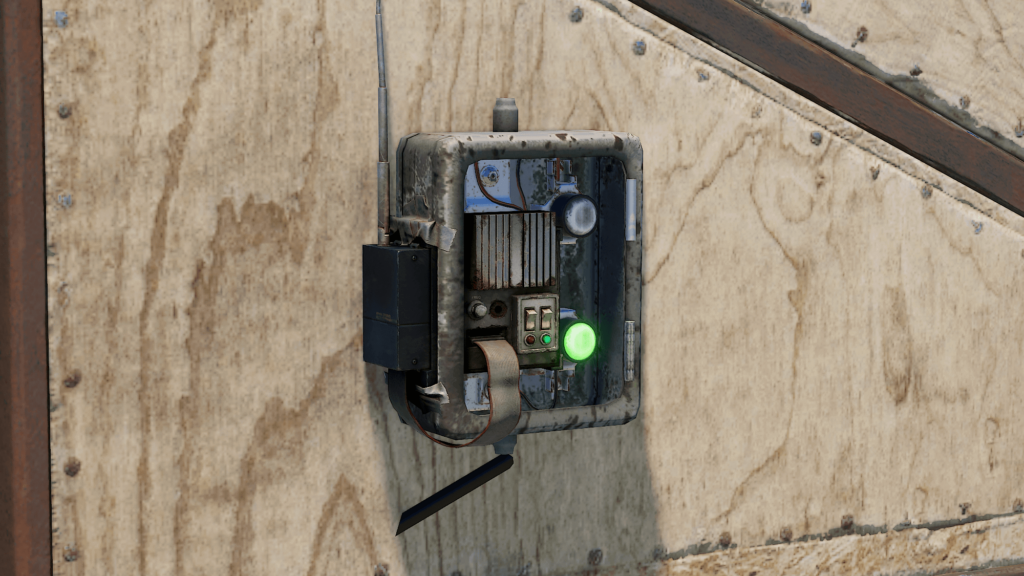 The smart switch component, which is much like the regular switch, allows players to toggle the component remotely through the Rust+ Companion App. It functions as a standard switch inside the game, except that players can also configure it to sync within Rust+. 
It's vital to treat and protect both of these components, much like a base's tool cupboard. Keep them secret, keep them safe.
Making the Most Out of the Companion App
For those of you who have purchased expensive cell phones
and haven't found a good use for them, because you're a real chad, don't fret! If you haven't already, we recommend you find a solid cell phone stand
and keep your Rust+ Companion App open and running on your desk. With your cell phone in the dock, you can have it running the live map feature which will:
Prevent unnecessary stops and peaks of the map
Allow you to see events as they happen
Keep tabs on where your teammates are at, at all times
View your points of interest on the map
Watch team chat as it happens
Help keep data private, in conjunction with streamer mode
Additionally, you'll be able to create the equivalent of a home security system by using proximity sensors to trigger and activate furnaces around your base. This can cause potential raiders to think twice about hitting your otherwise unguarded base. In addition to this, you can get very creative with more trap systems, such as automated sprinkler systems in the snowy areas, freezing your would-be guests to death. Or, manually trigger that fancy 360-degree turret system you set up so that it's not sniped out of existence while you're not there to monitor.
The Rust+ Companion App opens up a world of endless possibilities, you just need to think hard and put on your Kevin McCallister
hat.
RUST Server Admins and Owners
A quick tip for RUST server admins is to ensure that you set the default port for the app.port server variable. Make sure that this port is also whitelisted on your firewall or else the app cannot connect. This in turn can be used to disable the Rust+ app on a server.