Martha Is Dead and she ain't coming back
A highly anticipated horror title of 2022, Martha Is Dead by Wired Productions, is a memorable story that dives into themes of loss, death, guilt, and the bonds that form families.
Oh, and horror. Lots of dark, gruesome, bewildering horror.
Martha Is Dead is a first-person psychological horror game with a linear story and five-star cinematography. It is truly an interactive horror story for the ages. It features an artistic approach to its presentation and a nod of respect to the genre of horror. Its camera work and photography belong in an award-winning show, not an indie video game.
However, Martha Is Dead is an experience that creates friction. While more than traumatic, the story would've fit better in a novel or movie. Gameplay mechanics feel awkward and forced as if developers just wanted to fill in downtime with some input—any input—required by the player.
Our grievances aside, Martha Is Dead is a story that shocked us more than a handful of times and turned the cringe factor up to 11. It's nothing like the intensity you'll find in a game like Dead Space. But if you're looking for a wild wide of twisted horror and supernatural mystery, Martha Is Dead is for you.
Story & concept
The year is 1944. The setting is La Ramona, Italy.
Can anyone guess what was happening in Italy during 1944? That's right; it was WWII. And do you know which side the Italians were on? The Axis side. The bad side. Your side.
You play as Giulia, twin sister to Martha, daughter to Irene and Erich. Erich is a general in the German army and has recently moved his family to a villa in the Italian countryside to escape the prying, spying eyes of the enemy. Martha and Giulia accept this move as any teenage daughters would, but they do their best to make the most of it.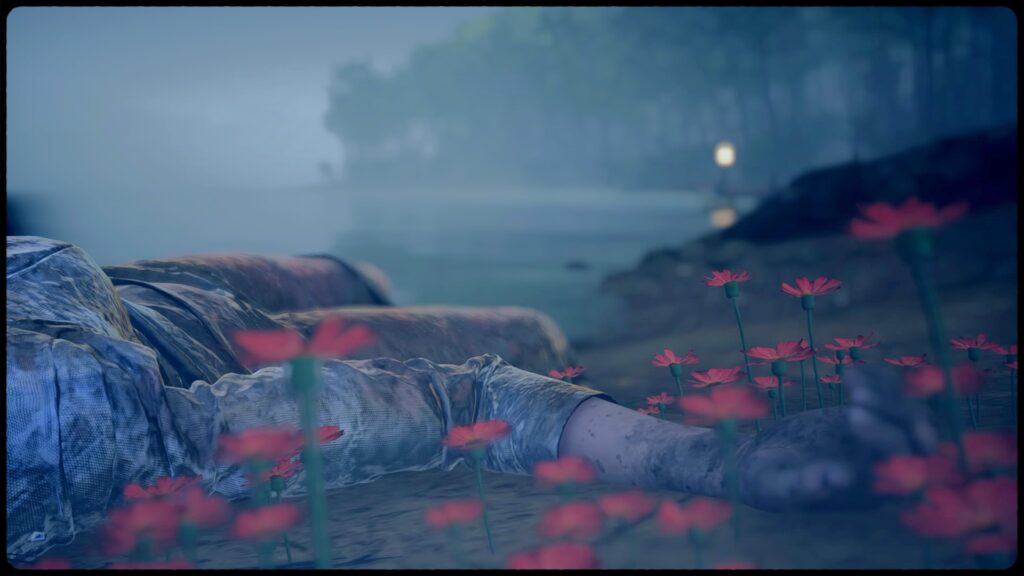 Giulia embraces photography, a hobby of her father's that she uses as an outlet for creativity. Martha embraces books and writing and loses herself in reading everything she can.
Martha is killed at the beginning of the game, a murder that traumatizes Giulia, the one who found her sister's body floating in a lake.
The murder is sloppy. There are clues left behind to the murderer's identity. Giulia takes it upon herself to figure out who killed her sister.
And why.
As Giulia pursues the truth of her sister's murder and makes decisions she wouldn't usually make to reach her goal, the story picks up an interesting supernatural slant steeped in Italian folklore. The plot twists were wild, and we can sincerely say we didn't see some of them coming.
The story of Martha Is Dead is sure to be remembered for years to come. It's haunting and tragic and rings personal for anyone part of a family with strong bonds.
Graphics
The graphics of Martha Is Dead won't make you sit back and say, "Wow." It's like a glorious Tomb Raider adventure or anything. But they will serve to immerse you in the story and lose yourself in the atmosphere.
I did notice that graphics concerning animals looked dated as hell. Birds, for example, look horrid, metal animatronics. The herky jerkiness of them is supposed to mimic real birds, I know. But dang, it didn't look good.
You don't see many human faces throughout your journey in La Ramona, but the ones you encounter are fully fleshed out and realistic to the letter.
Sound & atmosphere
Martha Is Dead Shines with its sound design and intricately built atmosphere. Waking up in a beautiful Italian villa and making our way downstairs to have breakfast and enjoy the morning was one of the best ways we've ever started a day in a video game. The chirping songbirds and scurrying woodland critters you hear as you wander your villa's property are spot on. I kept taking my headphones off to see if the bird I heard was in the game or outside my window.
The atmosphere of each location was clearly designed with the utmost care and attention to detail. Entering Giulia's family crypt, for example, was a genuinely haunting experience. The subtle lighting of the candles, the utter silence of being underground, the way we felt like spirits were watching over our shoulder–it all added to a sense of real atmosphere.
Death never looked so attractive. The scenes of funeral processions and religious wakes in Martha Is Dead deserve respect and remind us that many cultures take weeks to mourn the passing of a loved one. They take great pains to preserve the memory of their family or friend, and they spend lots of money on drapes and flowers and special clothes and incense.
Another feature that added to the atmosphere of Martha Is Dead is the language barrier. Martha Is Dead is the only game to release Italian as its default language and is based entirely in Italy. And it shows. We felt like we absorbed some traditional Italian culture just by watching all the daily customs and habits of the characters in this game.
Gameplay
The game of Martha Is Dead is nothing more than a vehicle with which to tell the story of Martha Is Dead. To that end, there is nothing special about the gameplay.
You run around the connect the dots of the murder. That's 80% of the game: run from point A to point B and experience the plot twist waiting for you there.
There is an antique camera that you'll pick up early on that can be used to snap pics throughout your adventure. Some of the pics will be required to progress the story, but the game gives you tons of attachments and add-ons for your camera so you can play around with them.
We didn't. But you can.
We honestly couldn't think of anything to take pictures of. Not the birds, obviously. The scenery was okay, but we ran past it about a hundred times. And since we had to use a dark room to manually develop our pictures, we only photographed what needed to be photographed.
We found ourselves more than a little frustrated at one or two puzzles in Martha Is Dead, and the puppet theater scenes made us want to chuck our controller through the wall. But, the realism of the puzzles and the methodical need for the puppets made it all explainable in the story.
Replay value
The replay value for Martha Is Dead pretty balanced. There aren't difficulty levels for you to test your skills against. But you'll most likely find upon beating the story that you missed a lot of content. What's that secret, gated area in the north of the woods? What happens if you decypher the morse code message and cut the telephone wire? Do you unlock anything differently if you tell your father about the rebels' plans?
You'll easily encounter the full story of Martha Is Dead on your first playthrough. And, for us, that's going to be our only playthrough. But we'd be lying if we said we didn't have some unanswered questions still. And we could answer those questions through another playthrough, knowing what we know now.
We give Martha Is Dead a medium replay value. You may want to experience the story again and fill in the gaps you missed the first time. But then again, you may be just traumatized enough that you don't need another run.
Final thoughts on Martha is Dead
Martha Is Dead is a shining story that is more than a little disturbing. It's twisted enough that every graphic cutscene features a nice "Skip" button on the bottom, just in case you can't handle the gore.
While the story of Martha Is Dead is phenomenal, the gameplay is not. Again, we would've liked to see this story as a novel or movie instead of a game. The cinematography was good enough to be featured at film festivals, and the acting was fantastic. But the weird gameplay elements are chaffed.
All in all, Martha Is Dead is a horror experience we're glad we picked up and would strongly recommend to any fans of the genre. It's not something that'll take you long to beat, and you won't need to get your controller sweaty. But you will sit back after a few scenes, thankful you weren't living in such conditions in 1944.