Earn RUST Twitch Drops by Watching Your Favorite Streamers
RUST has been booming on Twitch lately due in part to the new RUST Twitch Drops available for stream viewers. Drops are in-game rewards that are awarded to your account after periods of watching streamers with drops enabled. These rewards can be exclusive in-game items or RUST skins. How long you watch and what prizes are available to earn changes from one drop event to another.
Past rewards include the custom Twitch-related items from RUST's first Twitch drops event, including purple sunglasses, a headset, and underwear. Players with these drops can craft the sunglasses and headset, but the underwear must be applied via the inventory screen like the Sunburn DLC swimsuits. The second Twitch drops event included crates of random skins.
Once you have drops enabled, all you have to do is watch a stream to start progressing toward a drop, so it's worth setting up your account so that time accumulates whenever you find yourself watching a  RUST stream. 
The 4 steps to get free RUST Twitch Drops:
Visit the Twitch Drops page on the Facepunch website.
Link your Twitch account
Link Your Steam account
Activate Twitch Drops for your Steam account
Registering for Twitch Drops in RUST
Registering for RUST Twitch Drops isn't hard, but if you haven't registered for Twitch drops before, the process might be a little confusing. To make the process easier, sign in to your Steam and Twitch accounts before starting registration.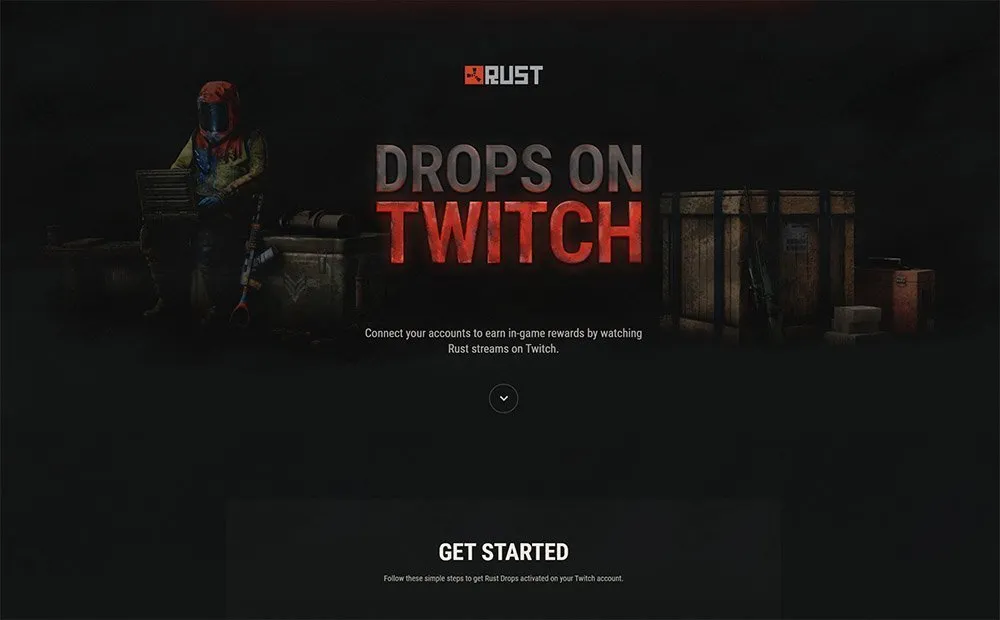 Step 1. Go to https://twitch.facepunch.com/.
Step 2. Click the down arrow to travel down to the registration section. Here it will ask you for your Twitch login details unless you logged in beforehand. If you are already logged in, click the purple 'Authorize' button to complete the authorization.
Step 3. Below the twitch login, you will see a Steam login window.  Authorize the Steam connection with Facepunch. Connecting your steam account allows Twitch to send the items to your steam inventory, which in turn lets you create the objects in-game.
Step 4. Once you log in to both accounts, scroll down to the third button. Clicking this enables drops.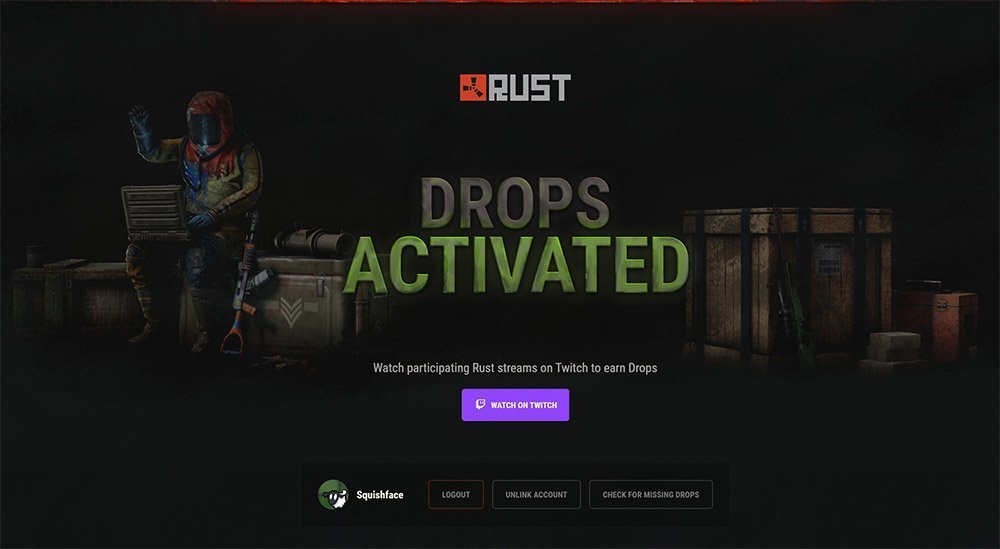 Once your activation is complete, you should see your Steam account linked. Should you choose to change Twitch accounts for any reason, you can also unlink the account from this page and go through the registration process once again for the desired Twitch account.
Watching RUST streamers 
From here, you can either hit the watch now button that becomes available or head over to the RUST Twitch splash page, which will show current RUST streamers. Watch a streamer for the allotted time, and you'll see the drop appear in your chat window.
Make sure your chosen streamer has Twitch drops enabled. The easiest way to find a streamer with drops enabled is to use the drops enabled filter in Twitch's search bar.
Receiving Twitch RUST drops
If you click on the accept drop button, your window will take you to your Twitch account's drops section. If you've missed the window or were away when the drop appeared, you can always get to the drops section by clicking your Twitch profile icon in the top right of the window to display the menu.
Once the menu is open, scroll down and click on Drops.
In the drops section, you can claim any available drops. It can take several minutes for the Twitch drop to appear in your Steam inventory, so don't worry if it doesn't pop up right away. When an item registers as "claimed," you know that this item is registered to your account. All claimed drops would remain in your inventory.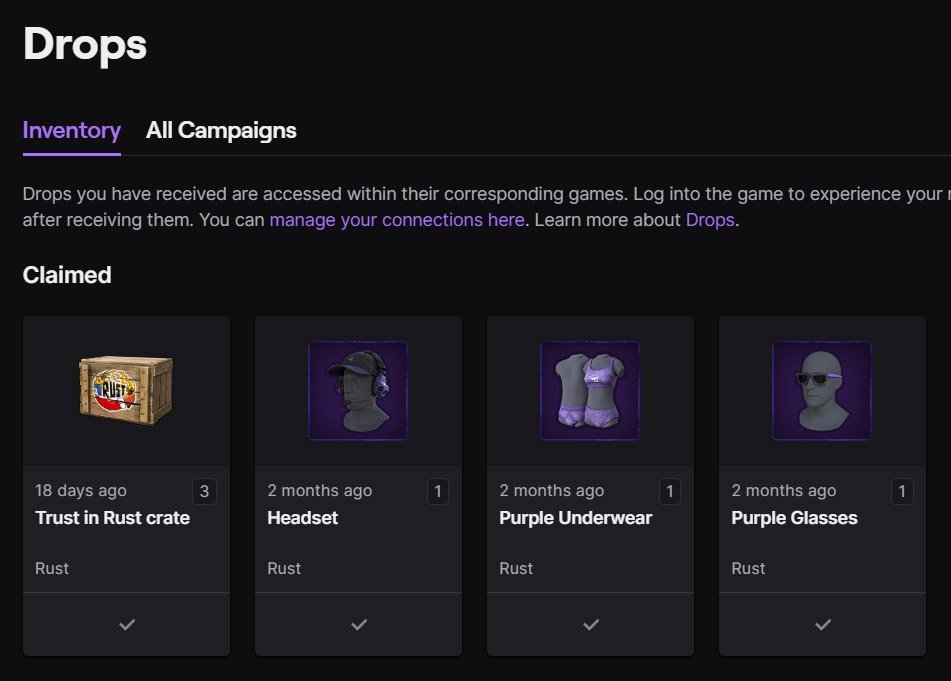 Opening Twitch Drop crates 
If you've received a skin crate, open your RUST client. In the main menu, navigate to your inventory. From there, choose your container and press the open button to empty the crate and reveal your prize. If you've received an item, like the sunglasses or headset, you will now be able to craft the item in-game. If you've received a RUST skin, you can now apply this skin in-game. 
It's that easy. Happy Twitching!
List of previous RUST Twitch Drop skins
Here's a list of all of the previous RUST Twitch Drop skins, by round. Browse through each skin set to see teh different RUST Twitch Drop skin available.