CorrosionHour.com is supported by its readers. This page uses affiliate links and when you click on an affiliate link, and make a purchase, we may receive a small compensation at no cost to you. See our disclosure policy for more information.
Getting free RUST skins is simpler than you think
Skins have been a feature in RUST for several years and are well-loved by players. They proved a way for the developer, Facepunch to receive continuing funding for developing the game and allow players to contribute in a way that provides a reward. There are many ways to acquire them, such as paying directly and trading, but earning free RUST skins is surprisingly doable.
Many players are familiar with the main avenues from which skins can be purchased: the RUST in-game store, Steam Marketplace, or other 3rd party skin sites. Below, we'll cover how you can get your hands on RUST skins completely free of charge.
If you're not familiar with skins and how they work, check out our guide on how to get and use RUST skins to get the full rundown and our guide for selling RUST skins for real cash.
1. Steam's Playtime Item Grant System (Random Item Drop)
One of the most simple ways to obtain free skins in RUST is to simply load the game up. RUST has Steam's Playtime Item Grants enabled, which rewards players with free RUST skins and in rare cases skin crates, for simply having the game client open. It doesn't matter whether you're idle or actively playing on a server.
There is very little public information available on this system and less that is specific to RUST's drop rates, so it's not going to be the best route for acquiring skins quickly. The way it actually works is those game developers who are published on Steam have the ability to enable the Playtime Item Grants for their game, which as stated, grants items automatically based on playtime in the game.
There are two settings a developer can modify:
You can grant items automatically based on playtime in your game (Minutes of gametime required to grant an item.)
Maximum Grant Frequency (Minimum interval between grants in minutes.)
In RUST's case, the automatic grants were set to 720 minutes (12 hours), and the maximum grant frequency was set to 1440 minutes (1 day) according to posts by Garry Newman in 2018. Items earned in this fashion will be delivered automatically to your Steam inventory. It's believed this system was put into place to help incentivize players to continue playing a specific game.
2. Find RUST servers offering free RUST skins in exchange for playtime
Another less common method for earning free RUST skins, but still easy to accomplish, is to play on servers that incentivize their players to play on their specific server for a chance to win free skins. Similar to the Steam Skin Drops, this method requires accruing playtime within these specific servers to qualify to earn skin drops.
This method of acquiring skins is less automatic and relies on the specific server's systems, such as set playtimes or frequencies, but it's certainly a perk of playing on specific servers.
Another form of servers that provide skins are modded servers that use plugins, such as Skinbox, which enable you to use virtually all RUST skins, but they are bound to that server and do not appear in your inventory.
Be sure to read the full descriptions and details for each server you enter so you don't lose time playing in a server that doesn't distribute skin drops if that is your reason for playing there.
3. Twitch Stream Rewards (Twitch Drops)
Another passive way of earning free RUST skins is by watching select RUST streamers and receiving Twitch drops during these limited-time events.
The streamers you're required to watch to receive these drops vary with each Twitch drops event, and Twitch drops only occur during drop events. These streamers will have the "drops enabled" tag set on their streams to let you know that watching them will earn you progress toward the drop.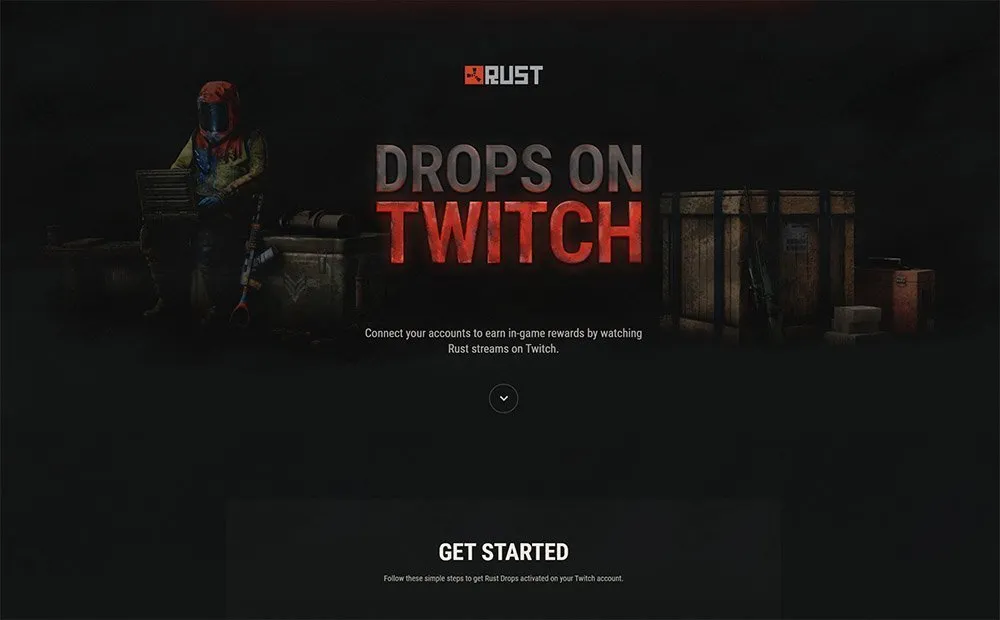 Watching streamers outside of Twitch drop events will not reward any skin drops. Check out our in-depth guide to getting Twitch Drop skins for more information on this.
The quick low-down is that you must first enable Twitch drops for your RUST Steam account. To do this, follow these steps:
Head over to

Facepunch's Twitch Drop Page

Link your Twitch Account

Link your Steam Account ID

Activate Twitch Drops for your account
To stay up to date with what Streamers are currently giving away drops and when events are taking place, you can join the official RUST Discord and follow the "twitch-drops" Channel in "PC Text Channels" section to get updates on when Twitch drops take place.
4. Designing your own RUST skin
If you're a creative buff, there's nothing to stop you from designing your very own skins for RUST.
This method will naturally require more time and skill investment, as you'll need to be reasonably well-versed in visual editing software like Adobe Photoshop and take the necessary hours to design your skin to a decent standard.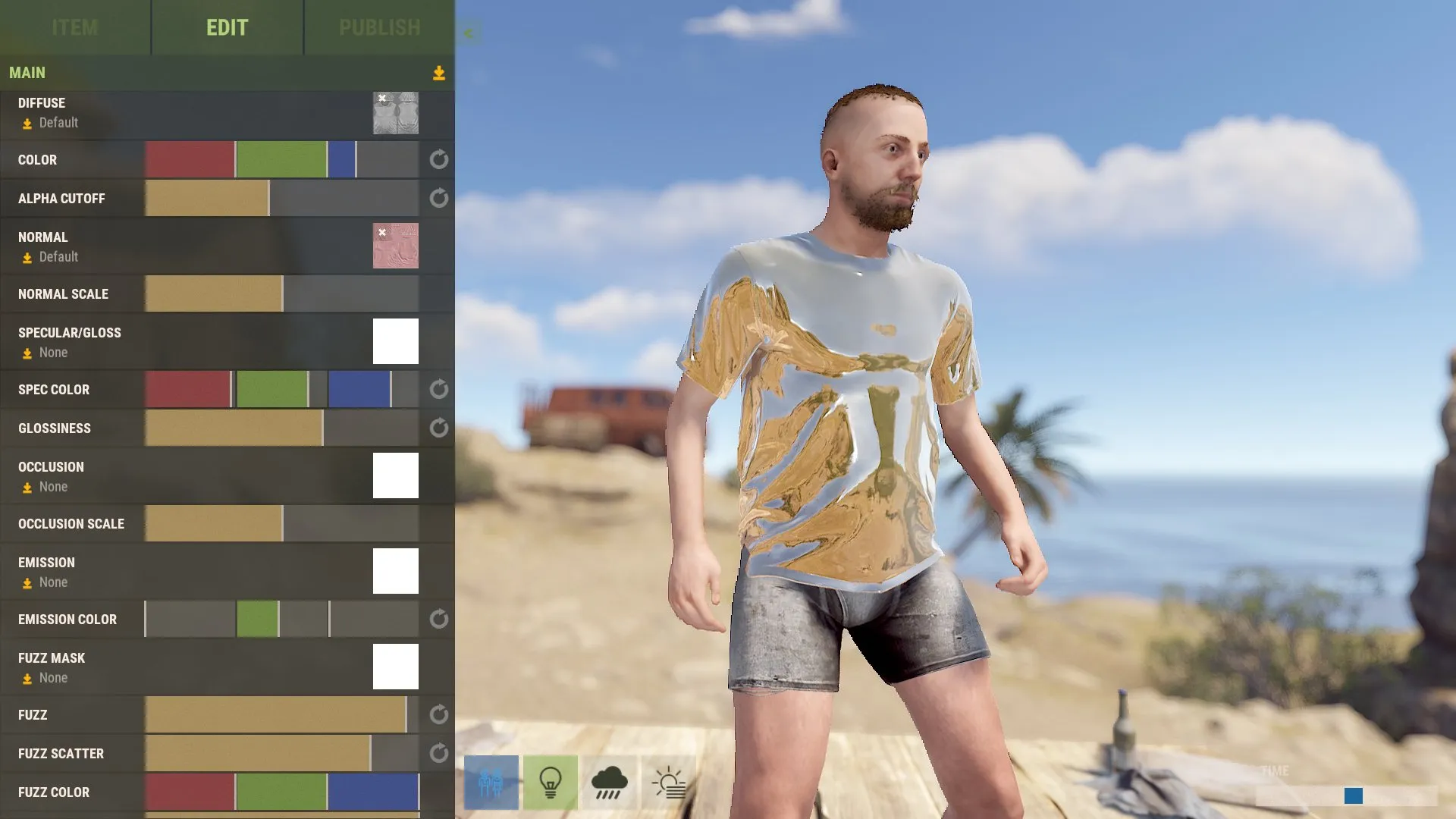 All user-created skins have to be approved through the Steam Workshop, so bear in mind that your design will need to be vetted and won't be automatically approved for you to take into the game/publish to the marketplace.
If you get your skin for the game approved, you'll earn a percentage of each sale of your skin once it's been uploaded to the Workshop, so this method (if successful) can generate you money (albeit small amounts of it.)
If you want to have a go at creating your own RUST skin from scratch, it's a good idea to consult the Rust Wiki on the detailed process of creating Skins before diving in headfirst.
For a visual introduction/explanation, check out this video from TheGrumpySpanner, which runs through the general RUST skin creation process.
5. Crafting skin crates in-game
A technically simple but much riskier way of earning free skins in RUST is by crafting Skin Crates.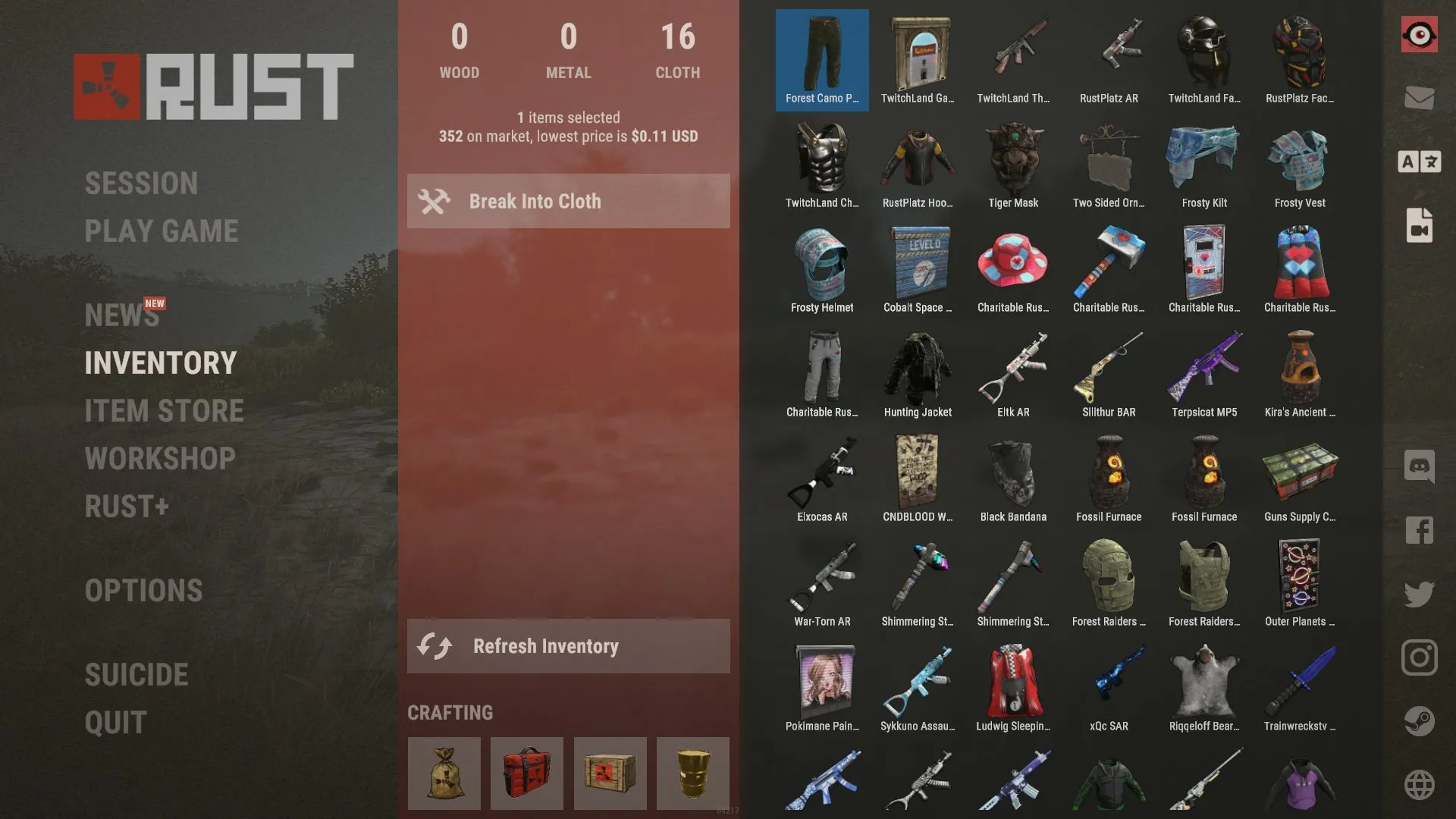 Skin Crates function like the systems in many other games where you can break down existing skins for materials such as Wood, Cloth, and Metal. With these materials in hand, you can then craft them into varying levels of rewards.
Players can craft four different types of Skin Crates that all cost different amounts of materials, each with a different chance of rewards:
Low-Quality Bag

– These cost 10 Wood to craft and generally contain common skins.

High-Quality Crate

– High-Quality Crates require 10 Wood and 5 Cloth to create. These crates can contain

deployable items

like Doors, Barriers, and Walls.

High-Quality Bag

– HQBs can contain a large number of unique RUST skins but require many more resources to craft. These need 70 Cloth, 5 Wood, and 1 Metal to create.

Weapon Barrel

– The highest quality Skin Crate. These contain skins for both weapons and tools and require 10 Metal, 5 Wood, and 5 Cloth to make.
It should always be noted that any kind of Loot Crate system comes with no guarantees for the player. Please take the time to think wisely about choosing whether or not to gamble with your materials and skins.
6. RUST Discord community giveaways
Another great way to earn free skins in RUST is by joining various Discord communities that provide giveaway channels featuring RUST skins. This might even be one of the best ways to obtain some of the most expensive RUST skins, as many large communities offer these as ways to attract new players.
Here are a few great Discord servers to join for RUST-specific giveaways:
These (along with other servers) can offer anything from free games, store credits, and VIP slots. Eligibility for giveaways will vary depending on each server. Be sure to read the rules or ask questions for clarity.
If there are other stipulations for being able to take part in a giveaway, these are typically posted by server bots that announce the giveaways. These are generally pretty simple tasks like reacting to the announcement post or tagging the bot in a comment.
Instructions on claiming the skin/prize are detailed by the admins and mods when the winners are announced.
7. Follow RUST on social media
This method isn't a surefire way to get free RUST skins, but conversely, they don't cost you anything other than a tiny fragment of your time.
The RUST social media accounts (and, by extension, developers at Facepunch) are pretty active within the realms of social media. Most of their posts are generally cross-promotions (the same posts or posts with the same message/content), advertising events in the game, updates/patch notes, and external things like merchandise.
However, there's no harm in following these accounts should they decide to launch a competition, sweepstake, or giveaway on either one or all of them. If you're actively playing RUST, you may as well follow its associated pages.
All of their socials are listed below:
Acquiring free RUST skins has never been this easy
With that, you now have a plethora of ways to obtain free RUST skins, each of which will undoubtedly help you continue building your collection. In many cases, you can play on your favorite RUST server, participate in the out-of-game community, and rack up your chances at scoring free skins without spending a dime.
Did we miss something? Be sure to get in contact with us.