Host a RUST Dedicated Server
---
Looking to host a RUST Dedicated Server? This guide to RUST server hosting will walk you through setting up a Windows-based RUST Dedicated Server, with easy step-by-step instructions.
There are many reasons for wanting to host your own RUST server.  Some RUST players want full control of their server so that they can manipulate the server's rules, settings, modifications, physical location, and an untold amount of other reasons. Whatever your reasons, we'll help you get a server up and running.
We will walk you through the following steps:
Software & Hardware System Requirements         
Windows  (7, 8.1, or 10) 64-bit
RAM 4GB (minimum), 8GB+ (recommended)
Available Hard Drive Space 6GB (minimum)
Archive/Compression Tool
Download & Install SteamCMD for Windows
Download & Install RUST Dedicated Server for Windows
Step 1 – Prepare, Download, Install SteamCMD
---
Open Windows Explorer and navigate to the drive you want to install the SteamCMD to.
Create a new folder in this location as follows (We will be using the C:\ drive):
C:\steamcmd\
Download SteamCMD for Windows from the SteamCMD – Valve Developer Community website.
When the download completes, right-click on the file name and select "Extract All" option, then browse to the new folder you created and select it.
Then you will need to press the "Extract" button, as seen below:
Navigate back to the new C:\steamcmd\ folder if it did not automatically open for you.
Double click on the steamcmd application file.
A console window will open and begin downloading the latest updates, and it will look similar to this:
When the SteamCMD update has finished, you'll be entered into the SteamCMD prompt.
Step 2 – Set Install Directory and Login to SteamCMD
---
In the SteamCMD prompt, set the installation folder for where your RUST Dedicated Server will install and run from by entering the following command:
force_install_dir C:\steamcmd\rust_server\
The above command will set the destination from which your RUST Dedicated Server files will be installed and run from.
Now you will need to authenticate with Steam through the SteamCMD.
Login anonymously using the following commands:
login anonymous
Keep the SteamCMD console open for the next step.
Note: Some servers will require you to use a Steam account. For security and convenience reasons, it's advised that you use a secondary Steam account, that's just for your RUST Dedicated Server. Only one Steam user account can be logged in at any time. If you wanted to play at the same time, this will conflict.
Step 3 – Download & Install RUST Dedicated Server
---
In the SteamCMD prompt, download and install the RUST Dedicated Server by entering the following command:
app_update 258550 validate
This may take some time, depending on your current download speed and bandwidth.
When complete, the SteamCMD console will look something like this: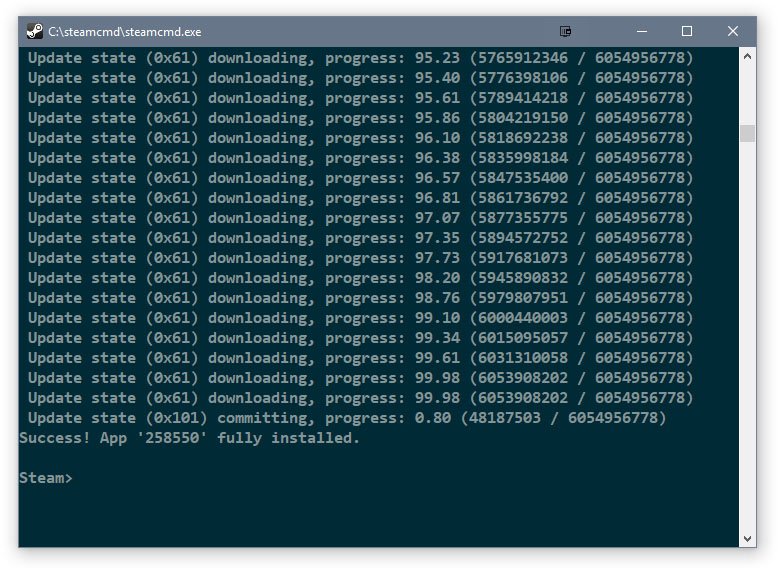 it will have pulled down approximately 5.6 GB+ worth of files into your C:\steamcmd\rust_server\ directory, allowing you to now run all of the necessary files for a Vanilla RUST Server.
Step 4 – Run & Join Your RUST Dedicated Server
---
Now locate the RustDedicated.exe executable file in the server directory that you created earlier. See below:
C:\steamcmd\rust_server\RustDedicated.exe
Double click the icon for the above file, and your RUST dedicated server will begin loading.
A command console will be displayed, in which you can enter RUST admin & server commands.
To join your server:
Load up your Steam Library and run RUST as you would normally.
Once the game is loaded, press F1 to bring up the RUST Console and type the following command:
client.connect localhost:28015
This will connect you to your RUST Dedicated Server.
If you are running the server from a different machine, you will need the IP address of that machine to replace the "localhost" text.
And that's it; you are now running a RUST Dedicated Server!
If you have any troubles getting the server downloaded and installed or noticed any errors, please leave a comment below or reach out to us on our discord. We'll be glad to help where we can.
Next Steps
Now that you have a running dedicated RUST server, you may wish to mod your server in order to change up the gameplay from the vanilla experience. Whether or not you choose to mod your server, you will frequently need to update your RUST server, or else players may not be able to join.