Learn how to obtain Cloth Fragments and what they're used for
Clothing, furniture, bandages. You'd be surprised at just how many everyday items are made with some kind of cloth. In 7 Days to Die, Cloth Fragments are used just as often. Though these fabric scraps probably aren't the cleanest or finest quality, they are an extremely useful resource vital to many basic and advanced crafting recipes.
This guide will teach you everything you need to know about harvesting, looting, and crafting Cloth Fragments in 7 Days to Die and how they can be used.
How to get Cloth Fragments in 7 Days to Die
Cloth isn't an especially rare resource, but it's much easier to come by in some biomes than in others. There are also numerous ways to acquire these fragments, but crafting them is the fastest and easiest by far.
1. Crafting
The quickest and easiest way to come by this resource is to craft it. Cloth Fragments can be crafted from Cotton, which can be farmed from seeds or can be found growing wild and in abundance in the Pine Forest Biome. If the player has read the Wasteland Treasures Vol. 6 perk book, then cloth can also be crafted from plant fibers, which can be gathered from grass just about anywhere.
2. Salvaging Furniture
Many furniture items found in houses and other points of interest are made from cloth. Breaking down these items can yield Wood, metal, and Cloth Fragments. Specifically, look for couches, mattresses, and beds, as these items tend to produce the largest yield.
3. Looting
Not only can loose Cloth Fragments occasionally be found in household and medical containers, but clothing containers can contain cloth scraps and additional clothing items that can be scrapped for cloth. Medicine cabinets, suitcases, dressers, washing machines, and clothing piles are all great locations to source cloth.
Tips for farming Cloth Fragments
Cloth isn't an especially rare material, and as often as it's used, you'll likely be fine keeping a stack or two lying around your base. If you need lots of it for mass-producing bandages or specific projects, however, take a look at these farming tips.
1. Grow Your Own Cotton
Growing your cotton can be a great way to ensure a steady supply of cloth in your base. Just ensure you have the proper seeds and farm plots to build a farm first. Investing in the Living off the Land perk can also greatly improve your overall yield.
2. Visit the Pine Forest
The Pine Forest Biome is the perfect location for farming cloth. Cotton grows wild here; each gathered plant can be turned into a single Cloth Fragment. There is cloth literally growing out of the ground.
3. Laundromats
If you don't have the patience or skills to grow or gather cotton, visiting a laundromat can be a great way to quickly gather the cloth. Not only can Cloth Fragments be found in abundance, but the many clothing items that spawn here can be broken down for lots of additional cloth.
Using Cloth Fragments
Cloth is a general resource used in tons of recipes in 7D2D. Everything from clothing to bandages has cloth in its recipe somewhere. We can't cover each individual recipe, but we can go over some general categories of items that Cloth Fragments are used to produce.
1. Armor
When just starting out in 7D2D, players have little they can use to protect themselves from attacks. If you're not fond of heavy armor that will slow you down or impede your sneaking, you can craft a set of Padded Armor. This low-tier armor uses Cloth Fragments as its base material and is the only armor in the game that does not impede the player's movement or noise levels in any way.
2. Clothing
While armor will help shield you from damage, it won't do much to protect you from the elements. That is where clothing is important; most clothing is made from cloth. From simple bandannas to more complex jackets, cloth is vital to crafting clothing of all kinds.
3. Duct Tape
One of the most versatile inventions of all time and one of the most useful resources in the game. Duct tape is used in hundreds of recipes and is vital for crafting advanced gear. It's possible to make your own duct tape, but to do so; you'll need Glue and, you guessed it, Cloth Fragments.
4. Bandages and Splints
Bleeding and broken bones can hinder a survivor or even kill them if not treated promptly. You'll need proper medical items such as bandages and splints to do that. Bandages and splints are crafted from Cloth Fragments and can be used to stop a player from bleeding to death, restore health, and stabilize injuries to heal significantly faster.
5. Clothing Mods
Many different mods for armor and clothing are crafted using Cloth Fragments. These mods can improve your carrying capacity, increase your resistance to temperature, and much more.
6. Furniture and Decor
Though not useful for survival, furniture such as couches, beds, and paintings crafted from cloth can be used to make your base more aesthetically pleasing and make it into a proper home.
7. Flammables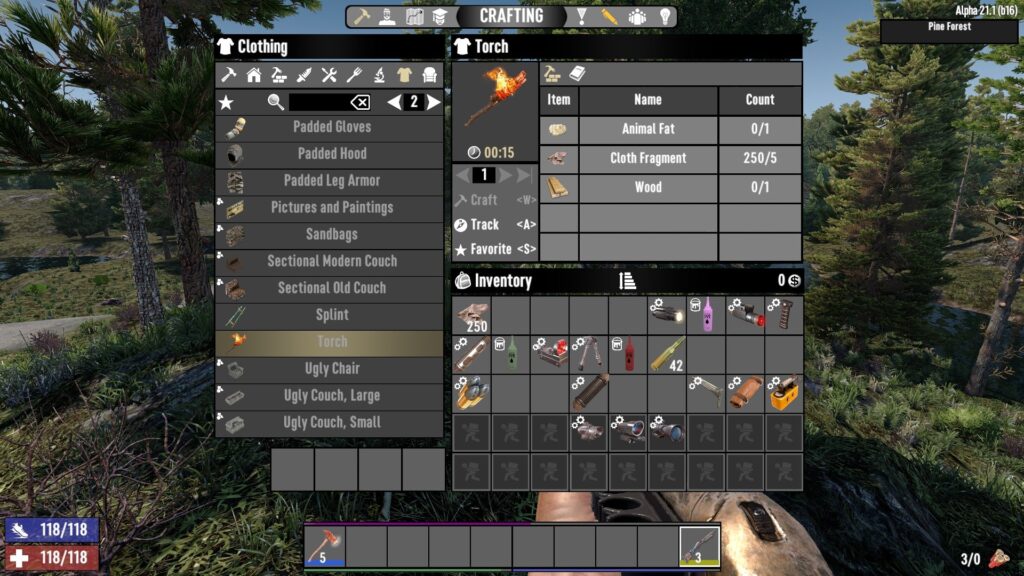 Torches, Molotov Cocktails, flaming arrows, and crossbow bolts are all made with Cloth Fragments soaked in various flammable materials. These items can provide light or set enemies on fire to deal devastating damage over time.
Final thoughts on Cloth Fragments
The Fun Pimps made 7D2D all about reusing scavenged materials to create new resources for survival in the zombie apocalypse. Ripping up your favorite t-shirt to craft bandages might be disappointing, but it's much better than bleeding to death.
If you're looking for some more tips to help you get started in Navezgane, check out our 10 Tips for Getting Started or our 7 Days to Die Beginner's Guide.