CorrosionHour.com is supported by its readers. This page uses affiliate links and when you click on an affiliate link, and make a purchase, we may receive a small compensation at no cost to you. See our disclosure policy for more information.
Are any of the 10 most expensive RUST skins in your collection?
Throughout the years, RUST has become one of the most sought-after online multiplayer games with a mix of survival and FPS combat elements packed into one. But one of its remarkable features is its customizable skins that keep you hooked and looking great in-game.
Not only are they fashion statements, but they make wonderful tools for enriching your time on PVE servers. In some cases though, the rarity of certain RUST skins on the market makes obtaining them an outright achievement.
With the amount of RUST skins available online, you can find items that cost more than the rest. Let's look at ten of the most expensive skins worth buying in 2022.
#10 – Tempered Mask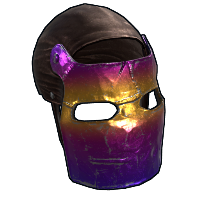 If you're looking to stand out from other players, you won't get disappointed with RUST's Tempered Mask. You can apply this skin on your metal facemask item and even get a piece of cloth out of it when broken down.
This Tempered Mask skin features alternating layers of purple and gold colors that exude a lustrous effect. Like many other skins, you can find its creator from RUST's productive online community. In particular, it's part of Milho Frito's collection of tempered skins.
You can get the Tempered Mask anywhere between $250 to $300, especially if you want to stray away from the usual camouflage aesthetic. These are currently well-circulated on RUST skin marketplaces, like SkinSwap, Skinport, and the like.
#9 – Glory AK47
Make your assault rifle stylish and unique with the Glory AK47 skin. This item will give your gun intricately-detailed designs around its body paired with softened red, gold, and silver engravings.
The Glory AK47 skin hails from MDE, which has created more than 69 existing skins in the RUST community. It breaks down into metal and is extremely rare in the market because of its high demand.
You can catch this skin anywhere between $280 to $310. You may not also see its price go down anytime soon since its stocks run out quickly.
#8 – Creepy Clown Bandana
Who knew scaring your friends, family, and other players is possible on RUST? You can purchase the Creepy Clown Bandana skin anywhere between $340 to $450. It's one of the most eye-catching bandana skins released during the Halloween season in 2015.
Use it on your bandana mask item and explore the wilderness as a creepy clown. It breaks down into a piece of cloth and has a rather complicated history in the RUST community. Its creator swiped its design and has long removed the skin from online stores. That's why getting it may become quite a challenge.
#7 – Fire Jacket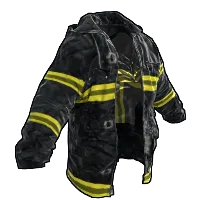 For a hefty price between $380 to $490, you can get the Fire Jacket, which is another well-beloved skin in the RUST community. Its creator, QRD, has done a splendid job resembling the simple yet high-quality firefighter jackets you see. Now, you can apply it to your jacket item and complete your dream of becoming a firefighter.
Recently, a police outfit was added to the game, at a much more affordable cost, for the time being anyways, and may partner up well with the Fire Jacket skin.
#6 – Horror Bag
Spice up your sleeping bag item with the limited edition Horror Bag skin released together with the Creepy Clown Bandana skin during the Halloween season in 2015. This orange-colored sleeping bag adorned with festive pumpkins and bats breaks down into wood and will undoubtedly add some enjoyment to your game.
Thanks to a user named MDemon, the Horror Bag skin is probably one of the most popular skins for the sleeping bag item in RUST. It's also a potential collector's item driving its cost anywhere between $450 to $640 because of its high demand.
#5 – Tempered MP5
Milho Frito has created another eye-catching and cool-looking skin for his tempered skin collection. You can get the Tempered MP5 skin for your MP5A4 item and get a piece of metal when you break it down. This skin has gained traction because of its similar style and color scheme to the Tempered Mask.
It's also one of the best skins to make your MP5 submachine gun stand out from other players, no matter which RUST server you're in. You can get alternating layers of purple and gold colors around your gun's body and on its mag well and receiver. Unfortunately, since the Tempered MP5 skin is a collector's item, you'll need to cash out anywhere between $500 and $700 to get your hands on it.
#4 – Big Grin
The Big Grin skin is one of the rarest skins on RUST for your metal facemask item. Released in 2016 and created by Jean-Luc Picard, its cost ranges between $650 and $800.
It has an extremely high demand but limited availability because of its unique design. Most players would want to use this skin together with their assault rifle for a more enjoyable time in the game.
#3 – Alien Relic SMG
Upgrade your custom SMG item with the hottest Alien Relic SMG skin. It's among the rarest and most expensive RUST weapon skins. In fact, you won't see much of this item on other players, even if you've been playing for years.
Created by Rcham and Dino Blunt, the Alien Relic SMG skin has become an infamous collector's item in the RUST community. It sells for anywhere between $1,200 and $1,800, with hundreds of players competing over it.
#2 – Punishment Mask
The second most expensive RUST skin is the Punishment Mask which sells for anywhere between $1,500 and $1,800. Originally known as the 4 Deuces Skull Mask skin, StabbyMcStabface took inspiration for its design on the US Navy Seals.
However, its demand has become so high because it was only available on the market for a few hours because of a copyright claim that proved to be false later on. Now, many players want to get their hands on the Punishment Mask, so you can't expect its price to go down anytime soon.
#1 – Metal Tree Door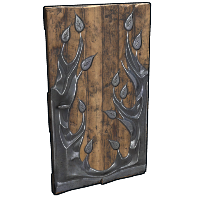 If you're looking for a medieval-styled skin, the Metal Tree Door skin would be your best bet. It resembles the Lord of Rings aesthetic and makes your wooden door item look elegant and classic. Its only catch is that it's currently the most expensive skin in the RUST community.
Since it was in the store for only a short period in 2018 because of a DMCA removal, you can only grab this item if you have more than $1,800. You also won't see a lot of players with the Metal Tree Door skin because of its low supply.
The most expensive RUST skins will put a dent in your wallet.
You'll find hundreds of skins on RUST priced at different rates depending on their supply and demand in the market. Other than this, their availability online has also affected their cost. Some skins, such as the Metal Tree Door, are incredibly limited in quantity, and being able to locate a seller can make getting your hands on the skin feel near impossible.
Overall, the Alien Relic SMG, the Punishment Mask, and the Metal Tree Door are currently the most expensive skins in the RUST community. They sell for thousands of dollars, with the Metal Tree Door ranking as the most expensive skin in RUST. But make sure to check their prices regularly as their costs may fluctuate daily.
If you're into collecting RUST skins, be sure to check out our guides for The Best Places to Buy RUST Skins, as obtaining these skins could be just a click away. If you already have one or more of these incredibly valuable skins and are looking to sell them for real cash, check out our guide for The Best Places to Sell RUST Skins for Real Cash.
For those of you who may be on the frugal side of life, be sure to check out our guide on How to Get RUST Skins for Free, you'd be surprised how many different ways there are for obtaining them.